The most advanced vacuum excavation to date. Reduce environmental impacts and cut costs.
WILLIAMS LAKE (MAIN OFFICE)
1-1165 MacKenzie Ave N
Williams Lake, BC
V2G 4P3
PRINCE GEORGE
9841 Milwaukee Way
Prince George, BC
V2N 5T3
Professional Residential and Commercial Services
Office Hours:
Monday to Friday: 8:00am – 4:30pm
+1.250.392.4647
Saturday, Sunday & After Hours: Emergency Calls

+1.250.392.4647
Saturday, Sunday & After Hours: Emergency Calls
First of a Kind
Go to Site and Stay on Site
Our advanced air excavators dump their dry excavated debris on site, reducing disposal costs, water supply & excessive travel.
The excavated material can also be utilized as backfill, reducing the cost of hauling it to site. These machines are the first of their kind in the area. When you're ready to cut costs significantly and move forward with the most up to date equipment technology in the industry, NorWest has you covered.
Air Vac Specifications:
20 % quieter than hydrovac units
120 PSI air rating
24,000 cfm vacuum system
10 cubic metre debris bin
Rotary boom end to break up ground
High-Pressure Air Utilization
How Air Vac Excavation Works
Suction excavation uses high pressure air (120 psi) to break up the ground instead of water, like traditional hydrovac excavation. Once the ground is broken up, it is then sucked up through a 10″ boom-mounted vacuum hose with 24,000 cfm. Utilizing air eliminates the contamination of water to soil and therefore provides dry fill when dumped onsite. This eliminates the need for a water source, disposal costs and the need to bring in backfill material.
The air excavator dumps the material out of its 10 cubic meter debris bin by side dumping. The best projects considered for the use of air excavation are where the soils are loose and where water sources & disposal sites are not readily available. These machines are capable of rather large excavations and when the truck arrives at site, it is there to stay for the duration of the project.
Our air vac excavation services are best suited for:
Oil & gas facility project excavations
Integrity digs
Daylights & slot trenching
Major excavation where disposal facilities are not readily available
Substation projects
Finding & exposing underground utilities
Open cuts
Trench box excavation
Railway cleanup & ballast removal
Foundation repair excavation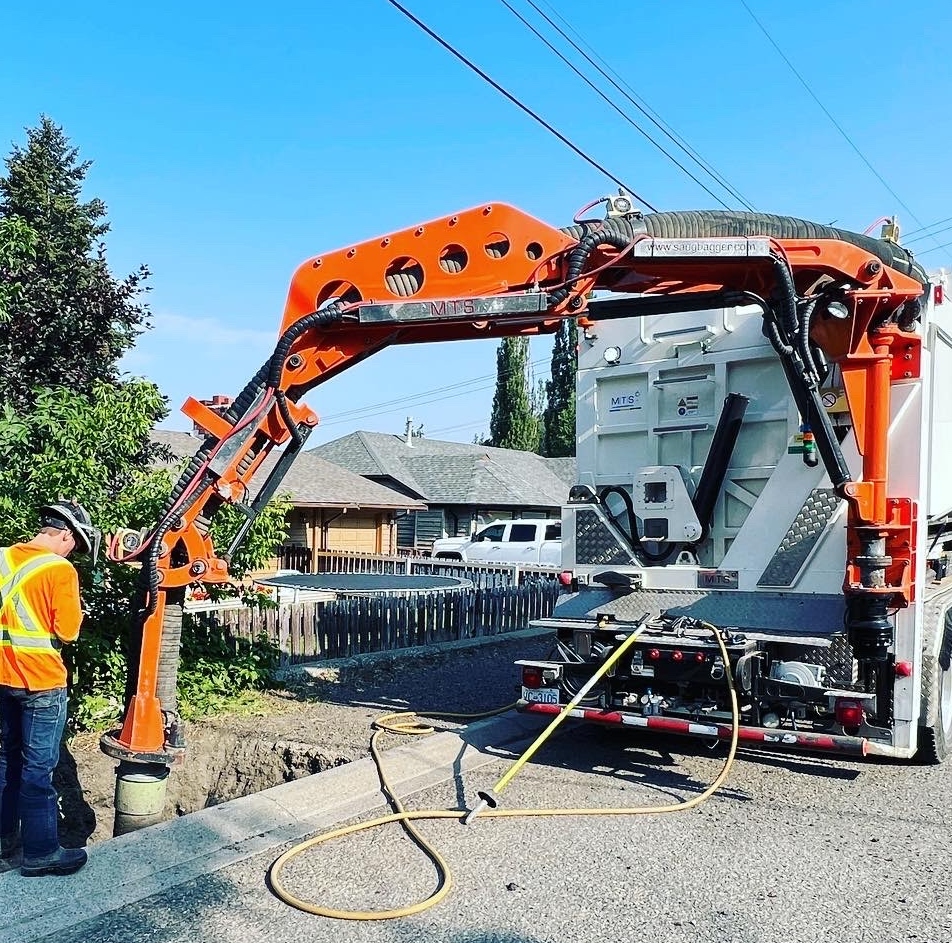 We're There When You Need Us
NorWest Vac has knowledgeable team members available to assist our clients 24/7 during emergency situations. We'll arrive at your site quickly and begin work immediately when faced with a time-sensitive issue. We are available for our clients whenever they need us.
Get A Quote